Today we're going to learn how you can send free SMS Text messages to other people's mobile phones. In order to do this, we're going to harness the awesome, unyielding, raw power service of win which is is Google Mail (GMail).
1) If you don't already have one, sign up for a Google Mail Account:
>>>Free Google Mail Account
If you do already have a GMail account, then you can use your existing address, or create a new one just for sending free SMS text messages. Either way, log into your GMail account.
2) You should now be inside your Gmail account. On the upper right hand side of the browser window, click the
settings
 hyperlink, and just…
Follow the red arrow!

Click the "Settings" Link in Your GMail menu
then

Click The "Labs" Tab in Your GMail Settings

Scroll down to "gmark" and click enable. Now Scroll to the bottom and click "Save".
then look to the
Bottom Left-Hand Corner of Your Screen:
then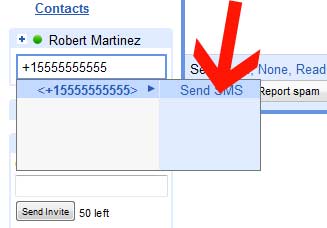 Type In Phone Number and Click 'Send SMS'. It will prompt you to add a contact name for the number.
Now you're done!
You can now send SMS text messages to this phone number through your Gmail. Your messages will look like they are coming from a (406) number, and it will have your email, "account@gmail.com" in the message to your friend.
Send Your Free SMS Text Message
Plus…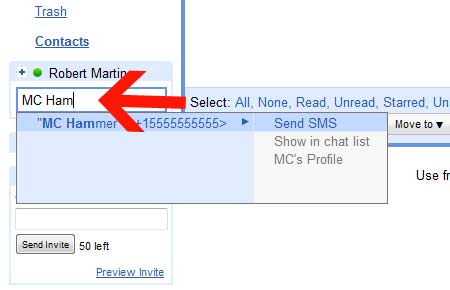 Your Contact Number is Saved for future Free SMS Text Sessions
Remember to ask your friends before you use this tool, because they might get charged for each message that you send. Otherwise, have at it. You can now send Free SMS Text Messages to all your friends.
Enjoy!
credit: webii.net